Description
Super-Trac is simple to use. As shown in this sequence, a small operator can easily transport a passenger in a heavy power wheelchair up and down stairs. Above, the passenger has boarded the platform using the integrated ramp. The wheelchair is being secured using 4 adjustable tie-down straps. An electrically interlocked seat belt provides additional passenger security.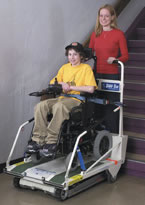 Once Super-Trac is loaded it can be easily rolled across flat surfaces, such as stair landings, using the auxiliary wheels. When not in use Super-Trac can be wheeled into a storage room. In this photo, Super-Trac has been rolled to the base of the stairway. The operator will then tilt the platform, using the hydraulic tilt control, and begin climbing the stairs.
Super-Trac climbs stairs up to a maximum angle of 35 degrees. When on the stairs, the passenger sits in a comfortable, level position. Dual electric motors will propel Super-Trac up 30 flights of stairs on a single charge. The wide track design provides excellent stability on the stairs. No exertion is required on the part of the operator who simply guides Super-Trac.